A global executive coaching
and consulting firm.
"We all have the capacity and energy to truly thrive. This requires stimulating curiosity, creating clarity, and inspiring people to take action for results."

Let me introduce myself. I'm Sue Stevenson and I run a global brain-based executive coaching and consulting firm specializing in optimizing performance for decision-makers, executive women, and entrepreneurs.
Brain-Based Leadership Coaching
Brain-Based Coaching for Executive Woman
Brain-Based Coaching for Entrepreneurs
COMPANIES I'VE WORKED WITH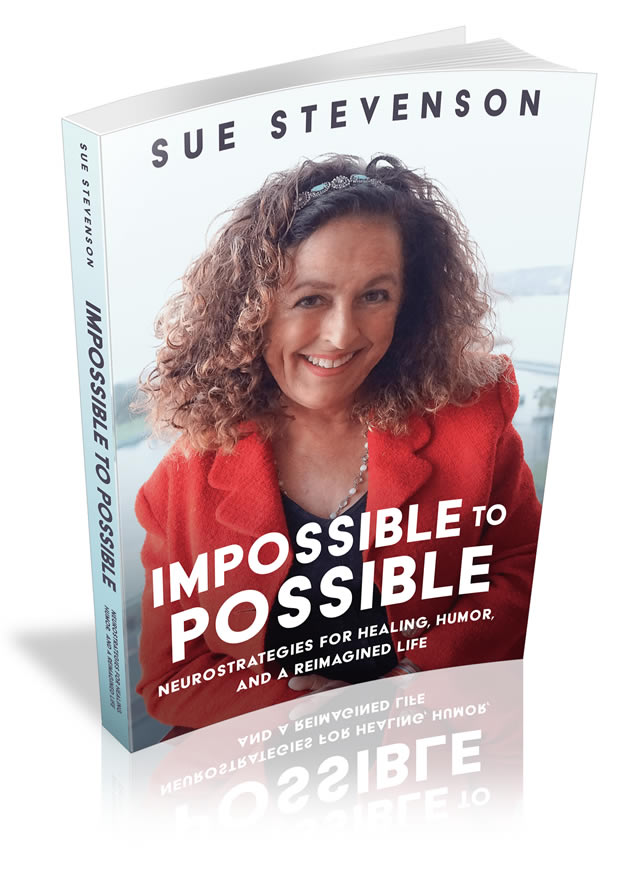 Sue's career as an extraordinary female leader faced with high levels of corporate stress led to a challenging health diagnosis. Generally, data shows that as stress increases, resilience falls accordingly. Yet, Sue has shown remarkable coping skills in dealing with adversity. In "Impossible to Possible" she chronicles her amazing journey to a healthier, happier, less stressful lifestyle.
Dr. Evian Gordon MD, PhD; Founder, Chairman and Chief Medical Officer, Total Brain. Author "Integrative Neuroscience: bringing together biological, psychological and clinical models of the human brain." (Harwood academic press, London 2000)
Sue Stevenson takes us on a riveting journey of healing, hope, and humor. Let her experience be a wake-up call for all high-performing women who continue to aggressively push through every challenge indiscriminately despite the cost to relationships, health, and happiness.
Karyn Buxman, neurohumorist, and wife of the devilishly handsome author of the mega, world-changing bestseller 1001 Ways to Be Romantic.
I have seen first hand how Sue steps out of her comfort zone, shows courage and resilience and demonstrates true leadership and an adventurous spirit in helping others.
Linda Cruse, International humanitarian, leadership expert and author.
Sue made the discovery that just as the fog lifts and provides clear skies, so too would genuine and authentic coaching assist leaders who are 'in the fog' about their career and professional decisions.
Through her professional practice, Lifted Fog, Sue provides executive coaching and consulting to organizations and individuals who want to achieve peak performance.
Sue's coaching mission is to feed the curious mind, find the clarity and build the action that helps each client embrace success.
Utilizing the latest research in positive psychology and neuroscience, Sue helps decision makers, professionals, executive women, entrepreneurs, and coaches and leaders understand how to change neural pathways, create insight and facilitate powerful learning outcomes.
Everyone should get a coach
Everyone should get a coach when they accept a new position at a senior level. It helped me understand the new culture, processes and people much more effectively and quickly, so I could perform at my best.
Newly promoted EVP at multinational high tech company.
What a difference this made!
When I accepted this position, I was fortunate to be given a coach to help me navigate through the first ninety days. What a difference this made to my productivity, my ability to build the right relationships and my early successes!
SVP Marketing at Consumer Goods company.
Sue is an invaluable resource
The most invaluable resource I could have been given was my coach – she helped me navigate a very different and confusing world, helped me embrace differences and ultimately helped me to transition much faster and more effectively into my new role in China.
GM, China for Fortune 500 company on assignment from the UK
Successfully start and grow my business
Working with Sue has been invaluable as I develop a new business plan. I have so many ideas on the direction of the business that it can become overwhelming to decide where to begin. Sue has given me the tools and guidance to create a clear, focused path on how to successfully start and grow my business.
Your experience and knowledge gained at a senior level within the biotech world and it's people is particularly helpful.
Director, Business Development
Significantly increased my confidence
The coaching process has significantly increased my confidence that I can run a successful business.
Senior, corporate executive on starting own business
Sue is a fantastic coach. She has been very flexible with my needs and has helped me prepare very well for an anxiety provoking situation. I wouldn't have been able to perform so well without her guidance.
I see a different way of leading
I have learned to regulate my emotional responses and reframe tough situations – I now see a different way of leading to bring out the best in the entire team.